Welcome to the Beatrice Ford Parts Department! We proudly supply drivers all over Beatrice, Lincoln, and Ceresco with the right parts to help your vehicle get peak performance. We have a large inventory of parts and a team of highly trained technicians whom you can trust to order and install new parts for you. All purchases receive 5% Owner Advantage credit.  Financing options and additional savings are available with our Service Credit Cards.

Genuine OEM Ford Parts

Our team exclusively uses OEM parts that were made specifically for your make and model. So, if you're bringing your Ford truck in for new brake pads, spark plugs, or wiper blades, you can count on our technicians to only install genuine Ford parts.

While there are lots of quality aftermarket parts available, installing OEM parts and accessories guarantees that you'll get the best fit and most reliable performance. By using OEM parts, our technicians can help your vehicle feel like new again after an accident and keep it on its recommended maintenance schedule.
Ford Dealership Tire Center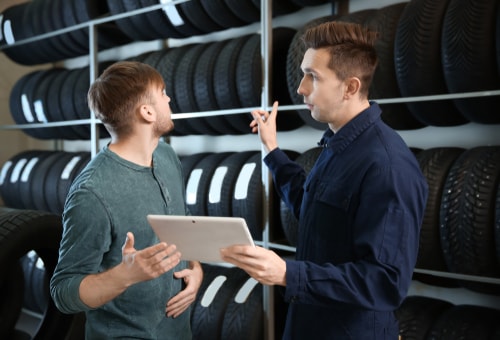 While it's always important to have the right parts under the hood, we know that it's just as important to have the right set of wheels. That's why we have our own tire center where you can search for the right tires for your vehicle online. We can even help you find the right snow tires to get you set for the winter.

Order Parts
If you know that your vehicle needs a new part or accessory, you can order it from us online. We'll let you know if it's in stock, or order it for you if we can't find one in our inventory. With our express ordering system, we should be able to have everything you need in just 24 to 48 hours.
Once we have the parts you're looking for, we'll contact you. If you like to work on your car at home, you can pick them up and install them in your garage. Our team of technicians is always happy to install them for you, too.
To learn more about the Parts Department at Beatrice Ford, contact us or order parts from us online. We regularly have parts specials available, so drivers in Beatrice, Lincoln, and Ceresco can save on parts and accessories.